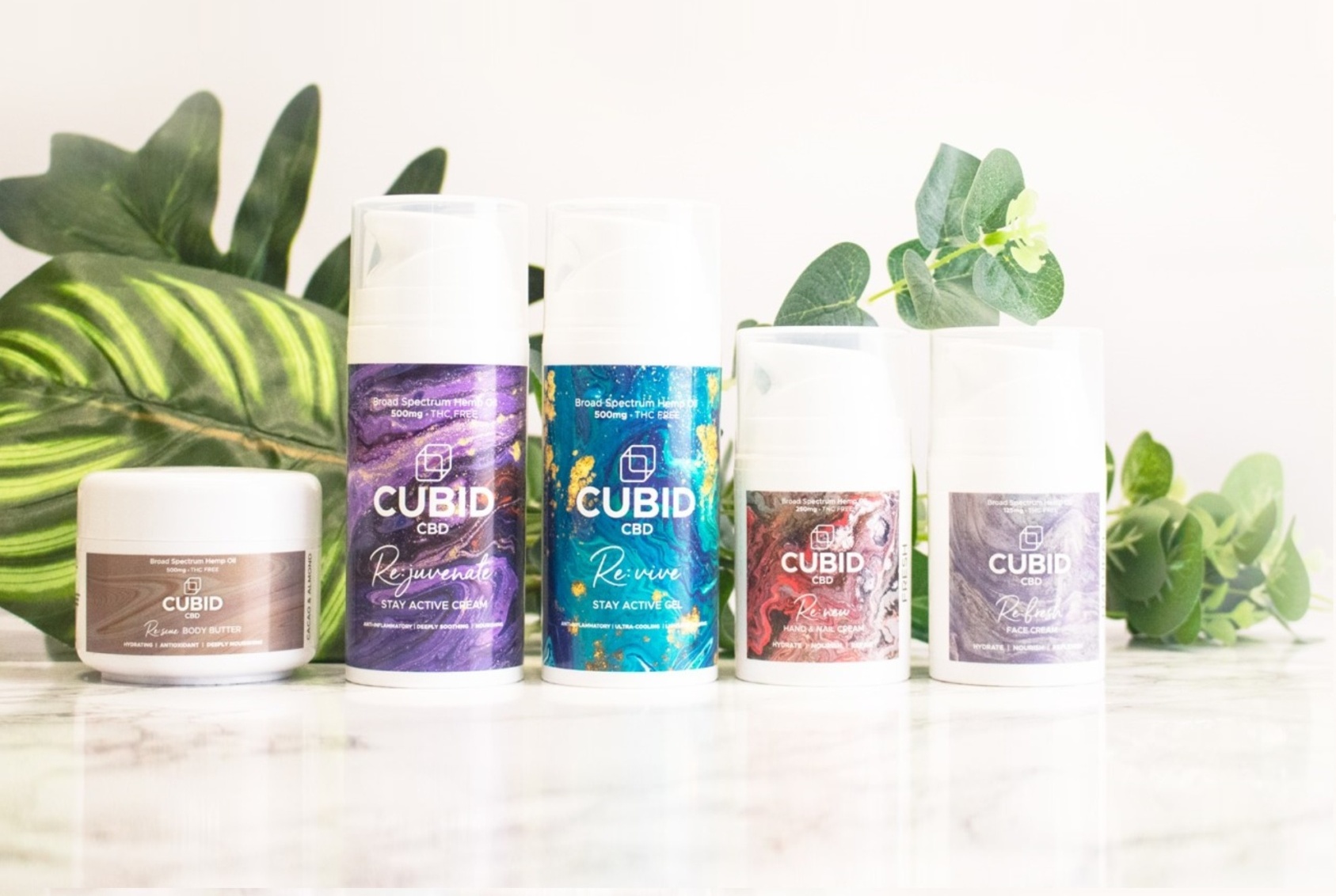 A to Z of CUBID CBD Ingredients
Ever wondered what goes into your favourite CUBID CBD products?
Here's an A to Z guide of the key ingredients in our products and their benefits.
Argan Oil
Naturally, Moroccan Argan Oil is rich in Vitamin E, plus fatty acids including oleic, linoleic, palmitic and stearic acid.
It also contains Phenols, a type of antioxidant found in many plant-based compounds like Argan Oil.
In both haircare and skincare, argan works well as an emollient, locking in moisture, which has led to its increasing popularity across low-to-high-range products.
Argan Oil can be found in our Re:fresh Face Cream.
Arnica Extract
This comes from an herb derived from the Arnica Montana flower, native to Siberia and Central Europe.
Arnica has been used as a powerful anti-inflammatory for centuries in the physical healing process post-injury because it works on acute (short-term) inflammation.
According to the European Medicines Agency, arnica may help heal bruising, sprains and muscle pain, hence its use in many muscle and joint products.
This extract can be found in our Re:juvenate Stay Active Cream.
Cocoa Seed Butter
You'll have heard of the health benefits of dark chocolate or the odd glass of red wine due to the very specific antioxidants they contain. Similarly, cocoa seed butter is abundant in polyphenol antioxidants.
This delicious ingredient has long been used in moisturising lotions recommended for people with stretch marks, scars and expectant mothers, as it soothes dry skin and may help to prevent or minimize the appearance of stretch marks.
Cocoa seed butter is also said to be effective on sunburn, as some believe it can speed up the skin's healing ability and prevent peeling. (That's not an excuse to skip on SPF!)
We use Cocoa Seed Butter in our Re:scue Body Butter and Re:fresh Face Cream.
Eucalyptus Oil
Eucalyptus Oil contains an active component (a terpene) called 1,8 cineole or Eucalyptol. This is known for its anti-bacterial properties and has been dissected in various studies by the cosmetic community.
There is some evidence to suggest this extract is anti-inflammatory and may help relieve minor pain sensations.
This extract can be found in our Re:vive Stay Active Gel, and is part of what gives this Stay Active product that fresh mint scent.
Glucosamine
You many have heard of this one, or seen it in capsule form in the pharmacy. Glucosamine is naturally found in the body's cartilage, in the synovial fluid protecting the joints and vertebrae from friction.
It has anti-inflammatory properties and has also been shown to help regenerate the production of cartilage as we age.
Many middle aged adults are advised to take glucosamine to help with osteoporosis or osteoarthritis for this reason.
Glucosamine, in topical form, can be found in our Re:vive Stay Active Gel.
Vitamin C
Vitamin C (citric acid) is almost always mentioned in regards to skin care — and for good reason.
There are so many benefits to using Vitamin C. It promotes the production of collagen and thickens the dermis. Vitamin C is an essential product for firm and youthful skin.
It has also been proven that Vitamin C inhibits melanin production in the skin. This helps to lighten and brighten skin that has suffered from hyperpigmentation.
You'll find Vitamin C in our Re:fresh Face Cream and Re:scue Body Butter.
Vitamin E
In skincare, Vitamin E (tocopherol) is famous as it acts as an anti-inflammatory and antioxidant, helping to protect the skin from free radicals. It does this by acting as a defence barrier within the cell membrane.
There are some studies which show Vitamin E may also help support the production of collagen, which depletes as we age. Collagen is the structural protein which keeps the skin's elasticity in place. The more collagen we have, the fewer signs of ageing.
We use Vitamin E in our Re:fresh Face Cream and Re:new Hand Cream.
Rosemary Oil
One study, which investigated the benefits of using rosemary extract in soothing muscle and joint pain found that it may work, but in combination with menthol.
This can be found in our Re:vive Stay Active Gel.