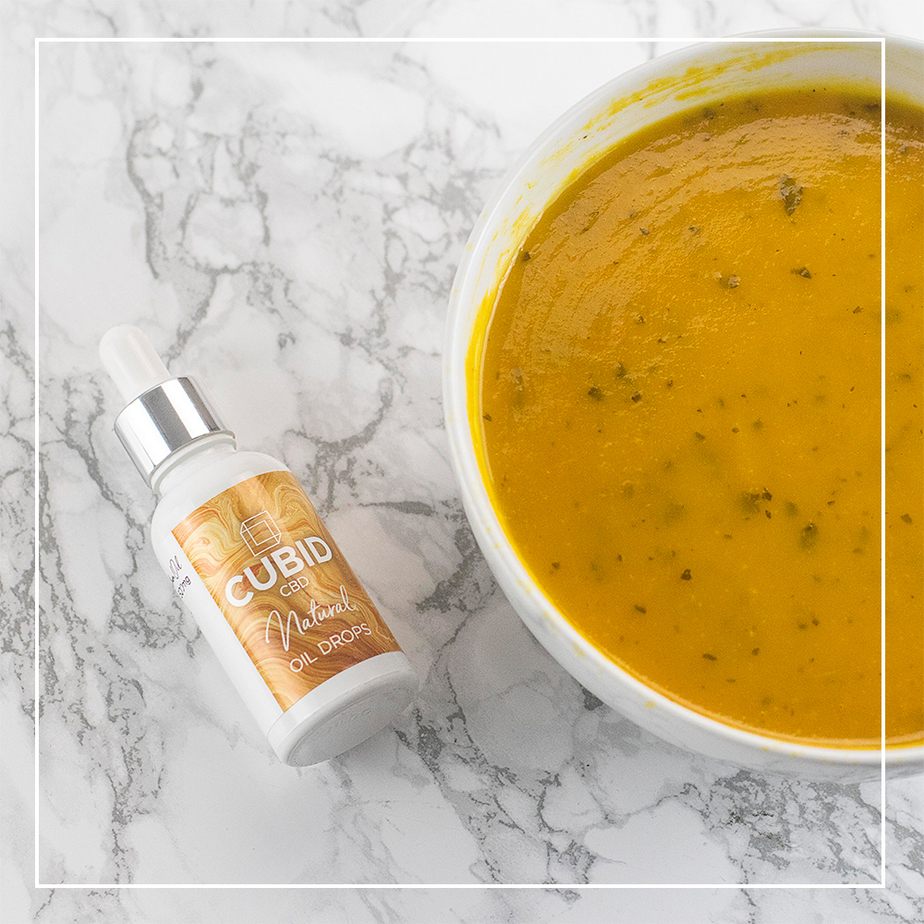 CBD-Infused Sweet Potato Turmeric Soup
Ingredients
1 tbsp of coconut oil
1 medium onion, chopped
36g chopped ginger
1 garlic clove, peeled and mashed using the side of your knife
1 large sweet potato, peeled and diced
2 large carrots, chopped
1 tbsp of turmeric
1 tbsp of sea salt
½ tsp of black pepper
½ tsp of cayenne pepper
6 tbsps of almond butter
1 litre of vegetable stock
450ml of coconut milk (two cans)
Juice of one lime
1-2 pipettes of CUBID CBD Natural Oil Drops
Method
In a large pan, heat the coconut milk over a medium to high heat. Once melted, add the onion to the pot and sauté for 3-4 minutes. Then add the garlic and ginger and cook for an additional minute.
Place the sweet potato, carrots, turmeric, sea salt, black pepper and cayenne pepper into the pot and stir for around 30 seconds.
Pour the stock into the pot and bring to the boil. Reduce the heat to medium and let simmer for 10 minutes, or until the vegetables are soft.
Remove from the heat and pour the soup into the blender (you may want to allow to cool for a bit first, depending on your blender capabilities).
Add the almond butter and CUBID CBD Natural Oil Drops and blend. Once smooth, pour back into the pot and, adding in the coconut milk and lime juice. Stir well before serving.