National Fitness Day highlights the importance and role of physical activity across the UK. From planks to Pilates, here are some CBD tips that could help you get fighting fit.
Take part in National Fitness Day
On September 23, National Fitness Day will see all ages take part in dance-offs, mass-walks, treadmill challenges, cardio classes and much, much more.
Whilst CBD made from Indica strains is acknowledged to have slightly sedative and calming effects, Sativa strains are known to provide a natural energy boost, making National Fitness Day a breeze.
It was recently discovered that cannabinoid receptors may impact motivation levels, so taking CBD oil drops pre-workout could give you that extra push you need.
Authors from the University of Maryland School of Medicine have discovered a relationship between CBD and motivation:
"A review of the findings suggests that CBD may attenuate motivational dysfunction through activation of the 5-HT1A receptor and elevations in eCB tone."
The results indicated that CBD weakened motivational dysfunction, and increased the subjects' drive for a certain goal.
And on September 23 that goal could be one more press up.
CBD interacts with the ECS and its receptors, which can have a positive knock-on effect on mood, energy levels and homeostasis – making that balance beam a breeze.
Using CBD protein powder before or after exercise can help the body to stay active and minimises the chance of muscle spasms and soothes inflammation.
There are many more CBD products available to benefit your body pre and post-workout.
Balms, gels and muscle rubs can soothe and relieve stiff joints and inflamed muscles too.
So, for National Fitness Day, why not kit your gym bag out with CBD and try it for yourself.
Feeling the effects of exercise? Try our post-workout star buy!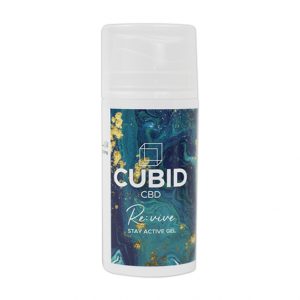 Enriched with eucalyptus, rosemary and camphor, our Re:vive Stay Active Gel has a ultra cooling and calming effect ideal for those who want to lead an active lifestyle in mind, whatever the level of activity.