There is now more of a global focus on our health and wellbeing with the COVID-19 pandemic gripping the world. More than a fifth of the world's population is on lockdown as a result. 
This year, World Health Day is even more important than ever, as The World Health Organization (WHO) endeavours to bring healthcare to everyone.
So, how can we look after our health and wellbeing from our homes during lockdown?
Here are a few tips from us…
Exercise at home
With many of us no longer leaving the house for work, social events and leisure activities, our step count and daily exercise has been dramatically reduced. There is no reason why we can't up the ante within the confines of our own homes.
Follow an exercise plan from videos and apps
Garden games such as swing ball, badminton or volleyball can be fun and help to keep us active
Make your very own gym from household items such as weights from bags of sugar or bottles of water.
Don't forget aftercare is so important when working out. If it's been a while since you were last active, you may suffer with muscle ache the day after exercising. Try our Stay Active range for some post workout muscle and joint recovery.
Eat regular meals
Continue with your healthy meal choices and keep mealtimes the same as they would be on a regular day.  If you need some healthy CBD recipes to keep you occupied, head over to our recipe section.
Don't be tempted to snack
Working from home can add temptation to snack throughout the day. Make sure you listen to your body and see if the urge to snack is coming from hunger or boredom. If it's boredom, take a short break for some fresh air or have a glass or water. 
Another top tip to monitor how much you are eating throughout the day is to prepare lunch as you would if you were heading to the office.
Make your lunch, allocate your daily snacks and leave them in a lunch bag or basket in the fridge, this way once they're gone there gone.
Washing your hands
We have been advised to take extra precautions when venturing outside. Does this apply to being in the house as well?  If you have not left your home then maintaining your usual level of hand washing is sufficient.
However if you have been out to the supermarket then it is advised to wash your hands and face upon returning home. Excessive washing, while effective against spreading COVID-19, can leave the skin dehydrated and irritable. Try our CBD skincare range for that extra bit of TLC.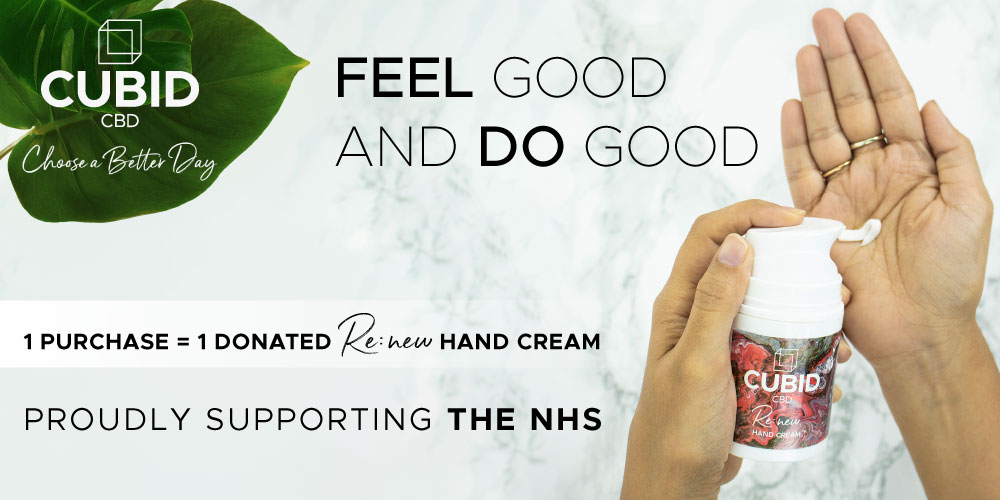 In light of recent events, at CUBID CBD we want to do our bit to help support the NHS. Whenever you treat yourself to your favourite CUBID products online, you won't just feel good, you'll be doing good. For every product sold, we will donate one full-sized Re:new Hand Cream to our amazing NHS.